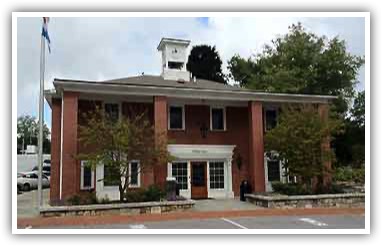 The
Town of Highlands
is located in Macon County, North Carolina. Founded, as the story goes, in 1875 by Samuel Kelsey and Clinton Hutchinson, who drew two lines, one between Chicago and Savannah - the other between New Orleans and New York (the major hubs of the time). The intersecting point, they reasoned, would be the "central" location for people of the south and northeast to escape the heat during the summer season. This point being in excess of 4000 feet above sea level was aptly named Highlands.

Kelsey promoted Highlands for its healthy air and excellent potential for orchards and gardens. Because of its cool climate and scenic beauty, it quickly became the popular location for well heeled southern folks. The inns, golf courses and thriving Main Street soon followed.
Highlands
is one of few places that has no industrial growth or impact (other than the numerous retail shops and prosperous custom residential construction business). The largest employer is the
Highlands-Cashiers Hospital
. The current facility was opened in 1993, and had always been operated as a non-profit but ownership was transferred in 2019 to Hospital Corporation of America.


Taxes are assessed by
Macon County
and City of Highlands. Both usually billed in August, are for the full year in which billed. January 1 - December 31. Annual appreciation averages 6% - 9% across the board. Those figures have greatly increased in the last couple of years!
Waste treatment facilities are limited. The vast majority of homes inside the city limits, and virtually all of those outside the city, use septic systems. When buying a lot or land, make sure it will support a system based on the number of bedrooms you desire. All applications for septic through the Macon County Health Department, can be handled by your agent at Preferred Properties of Highlands, Inc.

Zoning laws, Architectural Guidelines, and information of interest to new businesses can be accessed by visiting the
Town of Highlands
website.