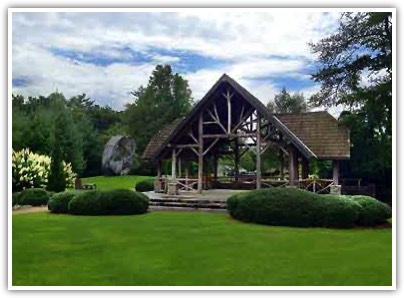 Tucked away quietly in the Southwest corner of North Carolina, the quaint village of Cashiers is one of the state's most charming places and most popular travel destinations. Surrounded by towering, picturesque mountains, it's a clean, friendly town that is rich in history and heritage, legends and lore.

Thankfully missing in this off-the-beaten-path locale are crowds, flashing neon signs and honky-tonks, for this is a family oriented hideaway with old-school values.

Cashiers (pronounced CASH-ers) is one of those delightful places that defies tradition by offering a wide variety of interesting things to see and do. In this spectacular Blue Ridge Mountains setting, visitors find peaceful valleys, sparkling lakes and rivers, cool summer breezes, majestic scenery, lush green forests and native flora and fauna throughout the year.

This is a place with colorful names that spark vivid interest in the history of the former Cherokee hunting grounds. There are rivers named Hogback, Horsepasture and Chattooga and mountains called Chimney Top, Sheep Cliff, Glassyrock, Whiteside, Big Knob and Yellow Mountain.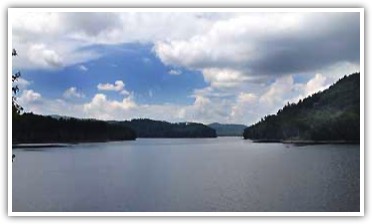 Recreational amenities are numerous and include such outdoor activities as golf, tennis, horseback riding, boating, rafting, fishing, swimming, hiking and cycling. If you can't find plenty to do in Cashiers, then you are too hard to please.

This lovely town has everything. From the peak season of May through October, Cashiers is alive with enthusiastic visitors taking advantage of the area's many attractions and attending a long list of festivals, concerts and arts and craft shows.

Make no mistake, the off season is a delightful time to visit with plenty of shops and restaurants to please, abundant outdoor activities and for those hoping to catch a glimpse of snow, tubing and skiing is available. Less active visitors browse in the many attractive shops in the village or settle back and enjoy the cool mountain breezes and mountain vistas. After sundown, they dine in a number of great restaurants that offer local or international cuisine, attend plays or concerts, and sleep under a blanket at a county inn, resort, hotel, motel, cottage or cabin.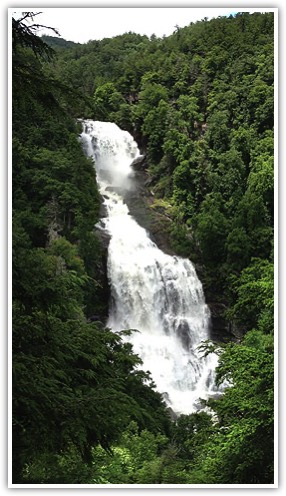 At an elevation of 3,485 feet, the small town anchors the surrounding area of Lake Glenville, Sapphire and Lake Toxaway. Cashiers is in Jackson County and prides itself on the numerous prestigious gated communities where the emphasis is on gracious Southern living. In summer, the population swells from 2,500 to nearly ten thousand.

This area is known nationally as the "Land of Waterfalls" because of the 19 falls scattered throughout the rugged mountain terrain.

The granddaddy of them all is Whitewater, which features a drop of 411 feet and has hiking trails to the bottom.

Other falls bear such appropriate names as Silver Run, Sliding Rock, Rainbow, Turtleback, Hurricane and Bridal Veil. All are easily accessible with a short hike and there are numerous photo and picnic opportunities along the way.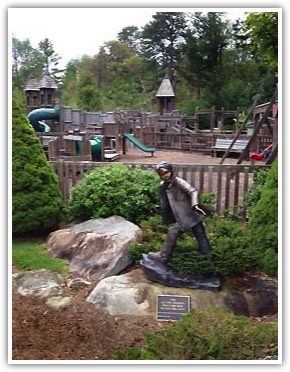 Sightseeing centers around nearby Whiteside Mountain, which offers beautiful hiking trails and panoramic vistas. Favorite scenic drives are through the Cullasaga Gorge; Horse Cove to the Chattooga River; through Whiteside Cove, and to the overlooks on the Blue Ridge Parkway at Blue Valley and Devil's Courthouse. This is mountain viewing at its finest.

Golfers can tee it up at High Hampton or Sapphire National—or of you know a member, at such private clubs as Wade Hampton, Sapphire Valley, Trillium and Mountaintop.

Die-hard shoppers will be delighted with the village's many attractive stores, boutiques and galleries that focus on crafts, antiques, gifts, apparel, furniture and home accessories.

In all, the serenity here is nature's way of providing pure relaxation and enjoyment in an aura of peace and beauty.

Discover Cashiers. You will find a lot to love in these historic mountains.

Thanks to: http://www.cashiers-nc.com/cashiers.htm