Commercial Space Available in Highlands, North Carolina
---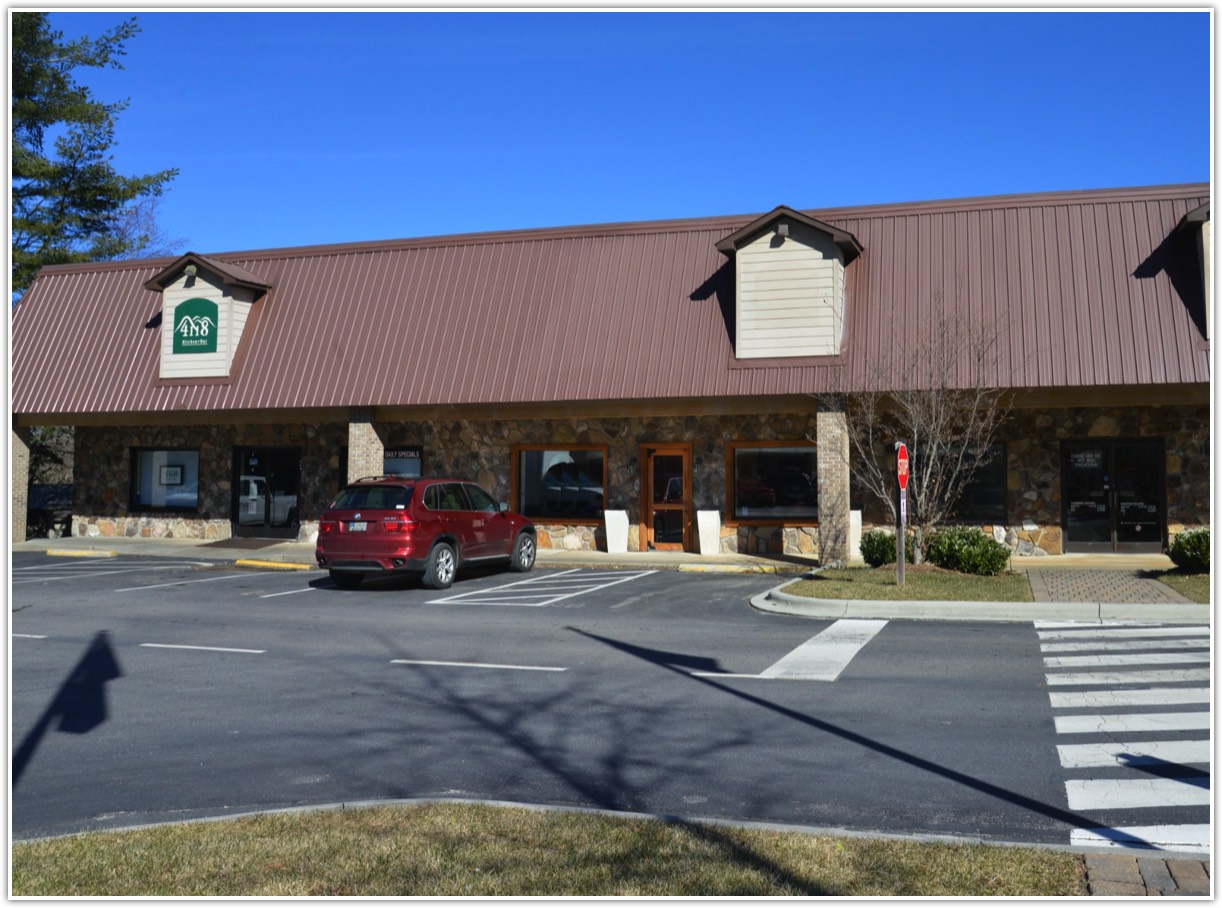 66 Highlands Plaza

The abundant rainfall (second highest in the continental United States) produces a mountain rain forest which bursts into a kaleidoscope of colors in the fall, drawing visitors from near and far. The native dogwood, laurel, azalea and rhododendron produce an ever-changing array of color. Since 68% of the land in Highlands Township is owned by the U.S. Forest Service, the natural beauty remains unthreatened by creeping commercialization. With all this forest land and natural beauty it is understandable that Highlands is a haven for outdoorsmen, naturalists and birdwatchers.

Highlands is blessed to have many social and cultural events on a seasonal and year-round basis. The Highlands Playhouse, which offers professional summer stock each summer season, now features first-run movies on a wide screen with surround-sound. The Highlands Biological Station and adjoining Botanical Gardens, where native flora is showcased, are but a short walk down Main Street.

For some reason it has become popular in the last 8-10 years to refer to the area as the Highlands-Cashiers Plateau. There is no such thing. It is simply the Highlands Plateau. Cashiers is in Cashiers Valley.
In the 1880s, Ella Emmons Hudson, a newcomer to the young town of Highlands, dreamt of providing reading material for the town and its surrounding communities. She died before fully realizing her vision, but her dream lived on to become the Hudson Library, founded June 13, 1884.

The first books in the collection were those brought up the muddy mountain road from Walhalla, South Carolina when Miss Hudson moved to Highlands. The Hudson Library is one of the oldest public libraries in North Carolina.

The
Hudson Library
is located on East Main Street.
Highlands is located at 35°3′15″N 83°12′8″W (35.054129, -83.202351)


According to the United States Census Bureau, the community has a total area of 6.2 square miles (16 km2), of which 6.1 square miles (16 km2) is land and 0.1 square miles (0.26 km2), or 1.94%, is water.

The annual rainfall approaches 90 inches (2,300 mm) due to the orographic lifting effect of storms coming from the lower elevations.

This rainfall and, counterintuitively, the abundant sunshine, create a lush and verdant microclimate which delights botanists.


The
Highlands Biological Station
was founded in 1927 as a small private research facility by a group of amateur and professional biologists and concerned citizens in the Highlands, North Carolina area. Organized initially as the Highlands Biological Laboratory, Inc., its first laboratory building was built in 1930. The rich diversity of the region attracted researchers working on many different taxa and systems; this led to growing support from the State of North Carolina and the National Science Foundation, with additional labs and dorms built in the 1950s and 60s, land and building acquisition in the 1980s, and further infrastructure and facilities improvements beginning in 2001 and again in 2012.

In the mid-1970s HBS was acquired by the University of North Carolina, and is now administered on behalf of the university system by Western Carolina University.




Average snowfall varies greatly from year to year. While some sources say 6 inches (15 cm) is the average, we can positively say that it is usually three to four times that amount.


Snow in almost any amount is beautiful here. Located on the Southern Escarpment of the Blue Ridge, we are perfectly located so that snow is often melted before it gets tiresome and dirty. Our DOT and municipal roads crews do a fantastic job of forecasting and clearing.

Areas of similar elevation on the northwest side of Appalachian region, such as Banner Elk, are not as protected from periodic blasts of Arctic air and receive more substantial snowfall.

Regardless, Highlands is one of the very rare locations at this latitude that has an average high of 78°F or 26°C in July, far lower than the rest of the American South.